I started my Africa Tour leaving The United States just after my 71st country Mexico and I had collected a lot of affection, enthusiasm and assistance from people of America.
On 22nd of November, I got a chance to share the belongingness with Americans in USAID Liberia once again. I was invited to share my message on Peace, Harmony and Environmental Protection and my experiences.
It is always tough to get inside the embassy of America anywhere, and I was entering an American embassy for the first time to share message of peace and Environmental protection. I was curious and excited. It was not that tough to get in for me and my friends as I expected because Nicholson Sossie came to pick me, Manita Aryal and SP Gopal Gurung in the front gate. Nicholson Sossie is related to Embassy of United States in Liberia and has helped me to get in the Embassy and to the people's heart for sharing my message of peace and environmental protection. And it was Manita Aryal who made it all possible.
It was an honor to start the program with providing the symbol of Nepalese Pride, a poster of Mount Everest, Nepali ethnic cap and a holy shawrl khada to respected Deputy Chief of Mission of US Embassy in Liberia Ms. Sheila Paskman. And it was a delight when I got a message from her that she will be keeping it in her office to remember message of peace and understanding.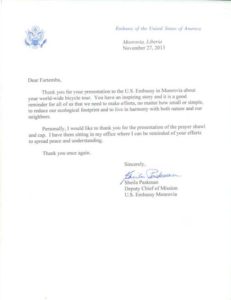 I then shared my message and my experiences travelling to 100 countries around the world with respected people in the embassy. With the video that explains my mission to travel around the world, I also shared some challenging experiences travelling in Liberia. It was fascinating to see everyone amused by my experience and I was completely enjoying their company and belongingness.
–   –  –
"I would love to come and stay in Rwanda and Angola if I have to come back and settle in Africa, I love those countries for the people and their affection, love and their dedication for peace."
—
I answered this for the place I would like to settle if I came back in Africa in the part of the question answer which was the session after I shared my message.
In the next part, I got a chance to further elaborate myself and my mission for travelling around the world while I answerd curiosity of people in the program. It was interesting to share about second constituent assembly election in Nepal which recently had been conducted as a result of peace process after years of conflict.
For the wonderful time an opportunity I express my deepest gratitude to Manita Aryal for coordinating the program, helping me share my message and spend a splendid time.