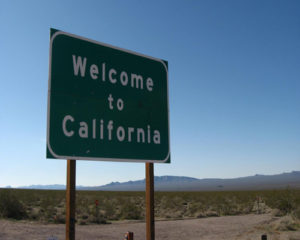 The Sonoma Valley
Once a capital of the independent state of California, Sonoma is known for its chilled atmosphere and warm hearted people.
26th of December I was in the city and that day I had completed 10th year of my tour.  It was one of the biggest days for my life.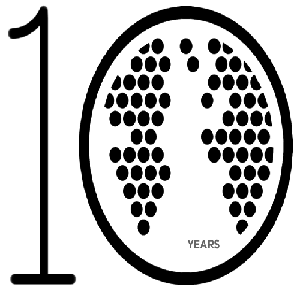 Himalayan Sherpa Club Sonoma made that day more special for me organizing a program for celebrating 10 years on the road.  It was a heart-whelming experience having a surprise program and wonderful time filled with joy.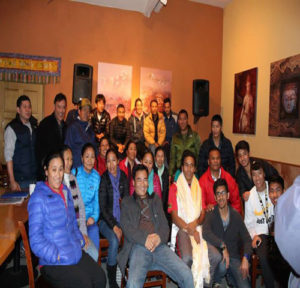 The support from Himalayan Sherpa Club Members was inspiring and their trust on me to share the message of peace was very much encouraging. I would like to express my deepest gratitude to the members.  And specially, I would like to express my deepest gratitude to Tshiring Sherpa, Ongdi Tshiring Sherpa, Ang Tshiring Sherpa, Narayan Shrestha and Dikendra Maskey.
Travelling to different part of the world, I usually gift khada to respected people I meet on the way and this time it was so nice for when the President Nima Sherpa and family welcomed me by gifting khada on the day I completed 10 year of tour.
The Golden State
Purna Sherpa had supported me while starting "tour for peace" in 2003 and once again after 10 years with the pedals, he invited to his place in California (the golden state).
Friends from the Golden State(California) and of course with golden hearts were highly affirmative towards peace and the protection of environment and also towards helping the helpless.
Besides support to pedaling tour, friends from California has also provided some wheelchair to help physically challenged and financially deprived people in Nepal to Furtemba Sherpa Foundation.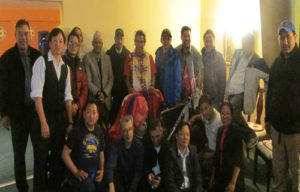 It was 12th of January when Nepali Association of Northern California provided me a chance share my touring experiences. Sani Sagarmatha, Janajati Mahasangh and different other associations had together put on hands to make it happen. Many thanks to Uttam Karki, Harihar Dahal, Dendi Sherpa for making it happen and everyone for being there and making the event so beautiful.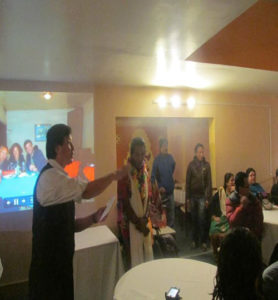 On the Golden Gate of the Golden State-California, it was fun to have some pedaling with friends enthusiastic for cycling.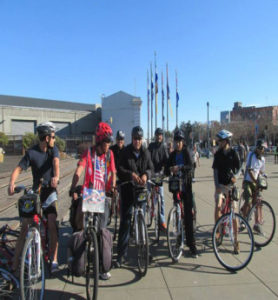 It had been quite of time I pedaled after leaving Africa and I a got a chance in California.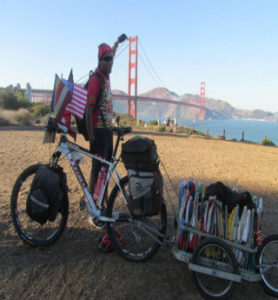 Just before leaving California, on February 2 Ang Damu Sherpa Hosted a friendly dinner program and she also committed 5 wheelchairs to support disabled people. I am beholden by her support to physically challenged people back in Nepal.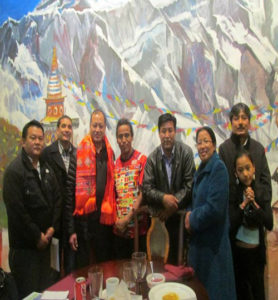 I was in California for a month with Bharat Baral, Purna Sherpa and Urban Curry Resturant Family and the it was a complete family time spent there before I left on the first week of February.