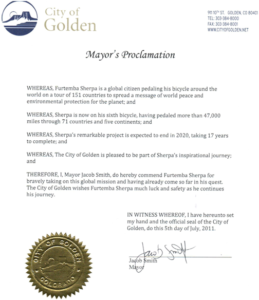 On July 3rd at 6:30pm in the evening, Sherpa Adventure Restaurant of Boulder and Rocky Mountain Friends of Nepal Association ("RMFN") organized a program to raise funds for my Africa tour. For the next three years I will be touring Africa, starting this August from Cairo in Egypt and ending it at Tripoli in Libya.
The event was extremely successfully with over 70 attendants, including the mayor of Boulder, Ms. Susan Osborne. We had half an hour of Q&A session followed by a video screenings of all my recent tours. By the end of the night we raised over US$5,100.
Dinner and drinks for 40 guests were sponsored by Pemba Tsering Sherpa, owner of Sherpa Adventure Restaurant in addition to a generous contribution of US$1,080. Lhakpa Chotar Sherpa, owner of Sherpa House in Golden donated US$1,000 in addition to a new set of camping equipments. We also auctioned off a rucksack, Patagonia T-shirts and various other items.
As I continue my journey, I would really appreciate any contributions from all my friends. If you plan to do so, please click the PayPal button on your right hand side. Any amount of money will be greatly appreciated. Thank you all for your heart warming support and happy 4th of July my American friends.
Peace and Harmony
Furtemba Sherpa