I had taken a picture of my bicycle in front of presidential building in Haiti and I had a image of the historic building getting demolished just few days later as the image of earthquake in my mind before 25th of April but now I after I felt the earthquake, I just don't have a picture but can feel earthquake and its terrible.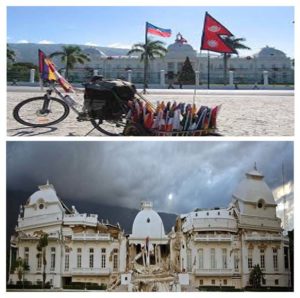 The day 25th April, one of the greatest earthquake hit Nepal with a magnitude of 7.9 richter scale. It was extremely scary. And it was not just 1 shake that shook the mind and hearts of everyone of Nepal but it was a long series of terrible and dangerous shakes.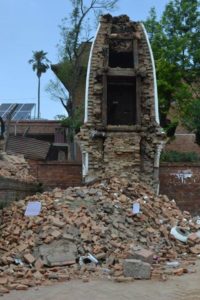 On the first day, there were more than 50 earthquakes and like everyone we were also in an open area (I hardly know how we even reached there of fear). While we were in the ground and the land was shaking the whole time, everyone had got their heart in their hands; so did we.
While we were sitting; for a moment, I felt that none of us were getting out of this terrible disaster alive. What we did was stick together with family. But I was worried about my mother and friends back home in Sankhuwasabha which is about 700 KM away from Kathmandu. Fortunately the impact back home was not so severe and a little tension was reduced.
It was not safe for anyone to stay inside since high intensity aftershock normally last 72 hours. Everyone arranged tents to stay outside on the open field with the best resources they had. We got one tent for 3 families who stayed together. The night was one of the longest nights of my life and probably for a lot of Nepalese. The shock was still continuing frequently throughout the night; it felt it was never going to stop. Staying outside after that day was trecherous and slowly it turned out to be normal to stay for 3 days.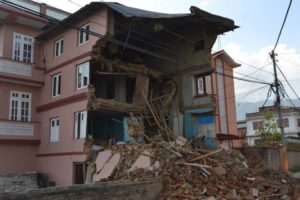 We spent the whole 3 days outside with hundreds of people around us sharing a common tarpaulin shelter and just leaving home for getting food and bathroom uses.
Our suffering was difficult but when I came to know about the situation of Nepal, it was not even bad as compared to everyone in the country. The disaster took thousands of lives, injured even many and demolished a lot of houses. The earthquake till 9th as recorded has taken 7,912 lives and injured 17,817. Also, the number of fully damaged public houses stands at 297,266 while 277,050 sustained partial damages according to Home Ministry's Update. The quake has destroyed number of world heritage site in Kathmandu, Bhaktapur and Lalitpur.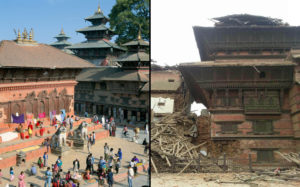 The quake now has not only led a lot of family to suffer but also it has made the second poorest economy of asia fall down even more.
Nepal has always been in a earthquake prone zone but I feel it is also triggered or if not triggered the effect has been magnified by man made reasons. Alex Renton on Newsweek.com's article has cited that "Dr Pierre Bettinelli was the scientist who in 2007 first showed how this vast flush of rainwater, second only to that of the Amazon basin, affects earthquakes in the Himalayas. " Here we need to give a thought that there may be a reason for increasing temperature which might have led to increased sea level in the bay of bengal somewhat associated with this earthquake. Saying this I am not saying it is the only reason but it may be one of the reason at least that might have magnified the magnitude of earthquake.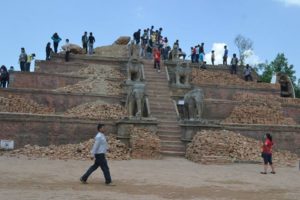 Whatsoever be it, we have been facing this natural calamaty and now we need to think on ways we could help people get rid of their situation. We also have been trying to do our best to support victims of earthquake the best we can which we will be updating on our next blog.
Peace and Harmony
Furtemba Sherpa