WITH SIR EDMUND HILARY
In 1953, a day – May 29 was marked historic. Two Climbers Sir Edmund Hillary and Tenzing Norgay Sherpa for the first time stepped to the top of the world – The summit of Mount Everest.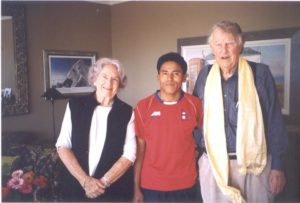 "May 29" is of a key importance to me and my touring experience too. When I first had just thought of starting a world tour to share the message of peace, an organization named after the date, May 29 memorial trust made it possible for me to start a journey round the globe.