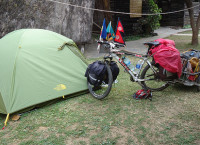 As they say "Zambia has everything to make your stay a happy one". I was really happy to get a camping site at Backpacker Hotel with the help of a Pakistani gentleman who suggested me the hotel. I met this benevolent gentleman in a Chinese restaurant on May 24, 2012; the day I entered Lusaka and started camping. It was the generosity of Backpacker Hotel to provide me some space in their garden. I felt very happy to meet people from 35 different nationalities at the hotel. During the 10 days stay, I got almost everything I needed. I am obliged by the courtesy of Mr. Ekanath Khatiwada and Mr. Bidur Khanal for their cordial support. Mr. Khatiwada helped me to find an International School where, I conferred my message of world peace and environmental protection and set a meeting with Mayor Daniel Chisenga which was a milestone to partial completion of my objective.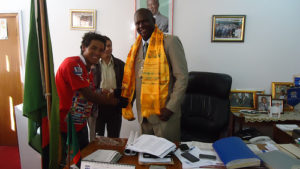 I am honored by the generosity of Mayor of Lusaka city who provided me some time off his near meeting scheduled to Honorable President of Zambia; although I was a little late. He was happy when I conveyed my message of world peace and environmental protection in the meeting of May 30, 2012. Committed to nourish, sustain and reserve peace and work for environment protection in Zambia, he assured me that Lusaka City will do its best against the climate change.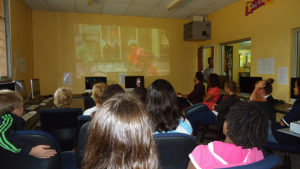 During the school visit on May 31, 2012, I had a presentation and interaction with students of grade 6 and grade 8. It was a very good time I spent, in American International School with students and teachers. Students asked me as if I feel like I am lost somewhere; which was totally new and interesting for me; for which I answered I have felt it several times but it is the company of wonderful people I met, that make me forget it everytime. I gifted the symbol of peace-Khada to Mr. Chris Muller-director of the school. I am delighted to know that the school have been presenting my video to the students I was unable to meet. I am humbled to Principal of American International School, Mr. Jim Anderson and thankful to everyone in school for their kind consideration and cordial support.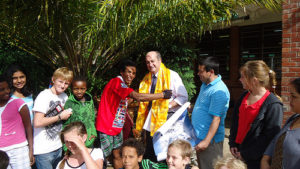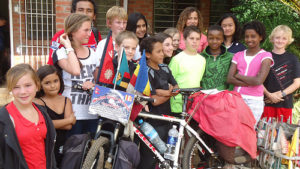 I had an awful experience of bicycle ride in Lusaka, where I felt, as if I was hit by cars and bus several times. I almost lost my camera, meeting upon an accident while I was riding back from Ekanath Kathiwoda's home to my camp in Backpackers. I was lucky not bringing my tailor, without which I was less hurt.
It has been a generous effort of Zambians to work for reforestation via various programs of reforestation. Highlighting the fact that cycling not only serves as a tool for sustainability of environment but also help in saving money, improving health and well being. Through this blog, I humbly request all Zambians to work for developing a cycle track and promote cycling in the region.
I didn't feel good to see the dead grass underneath my tent after I packed. I felt very sorry about that. Leaving some bad and most of sweet memories of Lusaka; I left Lusaka on June 3, 2012 to Victoria Falls.
Peace and Harmony
Furtemba Sherpa