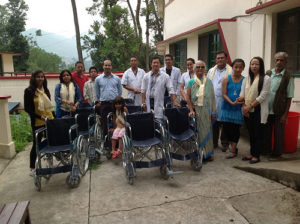 Kali Mijar was 8 years old when she discovered a mark in her body. She and her family never thought that small thing will make her life so miserable. The resident of Khokana, Mijar is now 79 years old and alone. Her brother and sister in law supported her for some time but now she is helpless. "I am used to going toilet and bathroom on my knees"-she shares her experience. She exclaimed with joy that she would now practice driving the wheelchair to have a smooth mobile life. Binu Sherpa's eye felt with tears when Mijar greeted Sherpa and when she said Sherpa and the foundation was like god to her.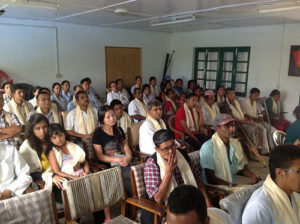 The program on 29th of June, started by the welcome speech of executive director of hospital. The same day (Ashadh 15) Nepalese celebrate the festival of Ropai (Planting of rice). Dr. Indra Napit- Medical director explained a brief about the hospital, Furtemba Foundation and how the effort of Furtemba Foundation has helped hospital to have a friendly environment to patients and staffs. He focused on the need of wheelchair to the patients who had to cut their legs during the diagnosis.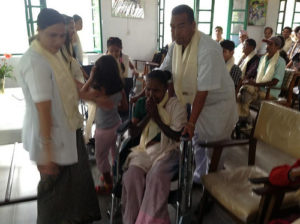 "I had to cut both my legs on 1997, since then; no one had supported me like you, this gift is the most precious I ever had in my life." Dal Bahadur Gurung of Khahare expressed his delight after receiving wheelchair. Though unable to speak properly, it was a pleasurable time to feel his excitement and happiness.
The program continued, with a brief on Furtemba Foundation by Bijay Manandhar and thanking the kind hearted personalities throughout the world who had their courteous and cordial support to make the distribution of 21 wheelchairs possible.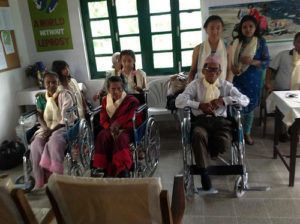 Two Daughter of Furtemba- Sweta and Ayusha with Ayushi Rijal, daughter of Bharat Rijal from Tanzania started distribution of wheelchair. Bharat Rijal has donated 4 wheelchairs for the program. On the special program, the staffs of Anandaban Hospital and Patients were gifted khada by Foundation.
The remaining wheelchairs were provided to patients on their beds and some of those were gifted to various wards of hospital. Staffs were happy to have wheelchairs, which they felt would increase the level of satisfaction and safety of patients.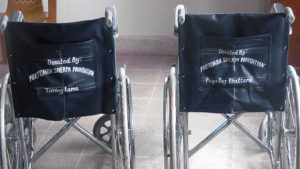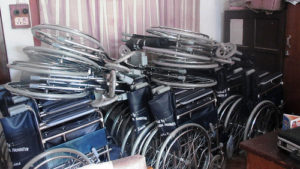 Furtemba Foundation is obliged by the support of the children along with team-work of Foundation, without whom the program "Giving the gift of Mobility" would now and then (on Asha Bal Bikas Sewa) never be successful.
We express our gratitude to the following children for their effort in raising some of the funds:
Anmol Gurung – Minnesota
Ricksum Lama – Texas
Richen Lama – Texas
Carina Rana – Minnesota
Anna Gurung – Minnesota
Gracie Gurung – Minnesota
Sidartha Gurung – Minnesota
Shristi Joshi – Minnesota
Tejosh Rana – Minnesota
Namami Bhattarai – Minnesota
Puspa Raj Bhattarai – Tanzania
Peace and Harmony
Furtemba Sherpa