Kavrepalanchowk is neighboring district of the capital Kathmandu with a mix of urban and very remote settlements. Kharelthowk is among the remote places of the district. People here are of diverse religions and culture. The place is dominated by multicultural people of Tamang, Bramhin and Kshettris and Dalits. Although Kharelthowk shares its border with a municipality, it still is a remote and underdeveloped village.
The earthquake on 25th of April took lives of 14 people and destroyed most of the houses in the village. Few people had to cut their hands/feet and were physically disabled. We offered them wheelchair but they denied taking because it was not useful for them to use in the geographically complex village. They instructed us to give it to some other people with disability where the geography is not a challenge. It was heart touching to feel their honesty and hear them share their concern for others.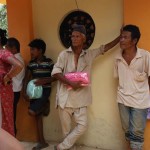 After the quake, people there has done the best they could to work together and one of the villager said- with their collective strength, they have transformed their grief to strength and are working to rebuild the community. People had their homes turned down but not their hopes. They recollected everything they got and were able to make temporary shelters on their own. I Salute their Courage and Strength. Different organizations also have provided relief and support materials to help the community.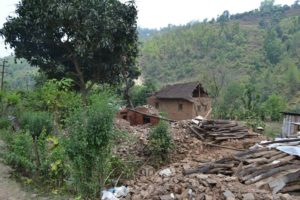 Most of the houses were destroyed and people have been staying out of the house. The place is in a temperate region and has the high risk of insects. And with the monsoon coming soon chances of insect infected disease can be very high.
Not to forget, it is very difficult to have a good night sleep with mosquitos murmuring around ears and feeding themselves from human blood.
While sharing this, I recall my experience in Africa when I was diagnosed with malaria. I used to have difficult days and sleepless nights for a quite long period of time because of the disease. Malaria kills hundreds of people in Africa every year and even some of Nepalese fellowmen have been infected with the disease and were not able to fight against the death caused by it.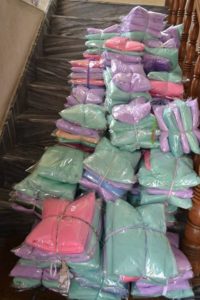 I strongly believe we should not undermine these nasty parasites and be cautious and prevent any encounter with the potential disease and for this we have always tried to support against the chances of this disease.
Mr. Manoj is the friend acquainted with Kharelthowk had identified mosquito nets as the immediate requirement for people staying outside. The victims of earthquake who now had a small tarpaulin shelter as their new homes also informed of the immediate need for nets to us through him. We had funds which we got from our friends to support earthquake victims and hence decided to provide nets to all the families staying outside with mosquito nets.
For this we used the fund we have got from Lyssa Belanger (Canada) and Season Yeung (Hong Kong). Lyssa with her fund supported 20 families with nets and with the funds Season provided we were able to support 70 families of the region. Mr. Palden and his family provided support for 40 victim families and we added the remaining to provide nets to 150 families of Kharelthowk.
May 30th, our team with Binu Gurung , Jennie Gurung went to the place with Mr. Manoj and distributed the nets. Mr. Ongma provided us transportation to take the materials to the village along with us.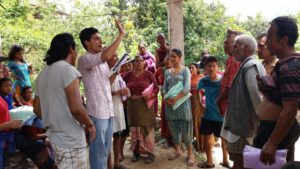 While distributing we made sure that only those who are not financially stable enough were provided and not the ones who can afford one.
Giving mosquito net which just costs $3 might not seem big in the form of contribution. But it is not just about the money, we believe we have helped them have a good night sleep without the fear of diseases and disturbing insects to break their nap which they have had after a tiresome day. We wish everyone in Kharelthowk to have a pleasurable and sound night so that they can wake up fresh and with enthusiasm to rebuild their houses and communities from the rubble.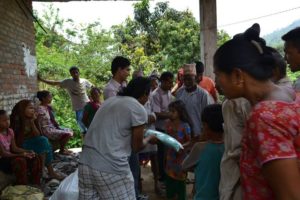 We have planned to support 360 more families in need of these nets and welcome anyone willing to contribute.
~Peace and Harmony~