Safety and Health First- Delivering Nets to Lapsefedi
We have been visiting different places destroyed and destructed by earthquake. In every places we found people trying their best to stand strong out of the rubble.
People now have started to make temporary shelters on their own and have collected hope and strength to make their lives normal again. But for financially weak people standing on their own capabilities is difficult. They have been staying in tents and waiting for roofing metal sheet from the government with the hope that they could at least make a temporary shelter to live through coming monsoon.
While everyone have been doing their best to provide relief to earthquake victims, one particular thing is given less priority- prevention from insects infected diseases. And this concern for the low income families needs to be addressed because they are the ones staying in tarpaulin tents and are most affected by insects. After being infected from Malaria in Africa, I have understood that a small insect like mosquito can cause a very big trouble to human health and often lives.
Mosquito in tropical regions can transmit a range of diseases. Some of which include Malaria, Dengue, Chikungunya, La Crosse Encephalitis, West Nile Virus etc. Only during the year 2013, malaria alone caused 584000 deaths and most of them were children. Although, the earthquake affected region is not a tropical region; the risk of insect infected disease still exists.
So, we have started working for providing mosquito nets for earthquake affected people. After our first distribution in Kharelthowk, we provided Mosquito Nets to earthquake victims of Lapsefedi -8 on June 17. The place near to the epicenter of Earthquake is no different from any other devastated villages. People staying outside are prone to diseases spread by insects and we believe the net could provide a little relief to them.
We are happy to share a little joy with people of Lapsefedi and I was overwhelmed by the honesty of the villagers. Out of the 220 nets we provided for distribution, a total of 209 were required and distributed and the rest they returned us back saying, those should be used to support more people in other regions.
A net is a very nominal cost item with price equivalent to a normal t-shirt but its value cannot be undermined. This small item can actually save people from a number of disease and help getting a good night sleep after a tiresome day.
The program was possible because of support of Mani Rani from Minnesota (nets for 131 families) and Keshab Maharjan from Washington DC(50 families) other than Furtemba Sherpa Foundation.
People in lapsefedi told us that they are happy to get a less noticed but important support during this rainy season.  I would like to thank People of Lapsefedi VDC for allowing us and everyone who have directly/indirectly supported us.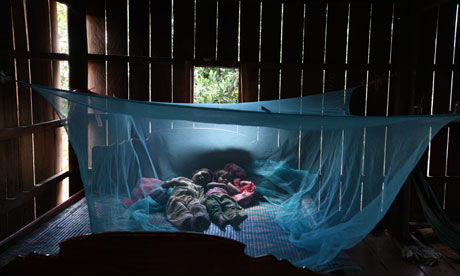 We are working for providing more nets for people in need. We have targeted to distribute 1000 nets by July end to deliver a good night sleep. Till now we have completed distribution of 370 nets and still have 630 more to achieve.
~Peace and Harmony