A Cyclist Rising from the Himalayas- Nawang Dawa Sherpa
Nawang Dawa Sherpa and his cycling journey are peculiar.
The cyclist who is just 20 years old left his home Solukhumbu to work in Lukla as a hotel worker in his early teen age. His responsibility was to work in hotel during season and collect wooden pieces for the hotel during off season. Lukla is a remote Himalayan region of Nepal and a major tourist attraction for adventure lovers.
"I had to collect woods from about 4 km below the place hotel was located. I was 14 and had to carry a load of 30 kg uphill to reach my destination. Every time I completed a set I returned back for collection and always ran fastest I could downhill. This helped me secure a position in marathon." Sherpa, shared his belief and secret of his victory to us.
He was a passionate athlete before his journey in sports even started. He had some information on athletics and sports and always practiced running in the steep slope of the mountainous Lukla region.
Witnessing his passion for running, the hotel owner where he worked gifted him a shoe that he had received for himself from his friend abroad. It was the first time he had run with a shoe, otherwise he practiced running on his bare foot.
It was the winter of 2011 that he got the shoes and since then started collecting information about marathon that was scheduled on the same route he worked. He got support from his friends to join these events and on his second attempt; he secured 3rd position in Tenzing Hillary Everest Marathon. 
"My owner used to say, the certificate achieved from these marathons are just for rich people, poor one like us should work not run. But when I won the award for the first time, I could clearly see the glimpse of happiness in his face. I can never forget the shoes that my owner gave me to start running. " – His happiness from the memories he cherished can too be seen clearly on his face.
After the race, he did not miss any marathon event in the region. During Annapurna Marathon, he got a chance to meet Baikuntha Manandhar a record breaker national marathon athlete. Inspired by his enthusiasm and hard work in such a young age, Mr Manandhar invited him to Kathmandu and showed his willingness to train Dawa for his better future. He did the same.
While he stepped Kathmandu, he had to again make his living besides sports. Like other athlete in the country, he too could not make his living through sports. He started working in a hotel in Baudha and also attended regular marathon training with Baikuntha Manandhar.
During the time, he also joined many other marathons.
Mr. Chhimi Gurung, the president of cycling association of Nepal had an old unused bicycle. Finding Dawa with a great potential and zeal to accomplish an adventure, he lend him the bicycle to practice cycling. Dawa did not turn him down. With his hard work he proved himself in two bicycle races.
He participated in several bicycle races and in a period of 1 year after he got the bicycle, he won 2 bicycle races back to back in 2014. The first one was MTB race (13.3 KM) and the second one was among the toughest bicycle races in the world – Yakru Annapurna Challenge.
Yakru Annapurna Challenge was conducted in the tough mountain terrain and Himalayan region of country and comprised of 240 KM.
His story for Yakru Annapurna challenge is interesting. It was not possible for him to race with the old bike so he planned to rent a new one for the race. With no money in his pocket, he rented the bicycle and after the race was completed he not only paid the accrued rent of the bike but also bought the it with the prize money.
This year Again, Mr Dawa Sherpa is interested to participate in one of the toughest cycling event this year- Yak Attack 2015. But for a young sportsman like Dawa, there is no way he could sponsor the racing that would cost $800 himself. In addition to that, he doesn't have a bicycle. So, we a team of 5 people (Ang Tendi Sherpa, Sarita Gurung, Jharana Sherpa, Nabin Thapa, Fula Sherpa and myself) are working together to get funds enough to participate in the event and buy him a bicycle.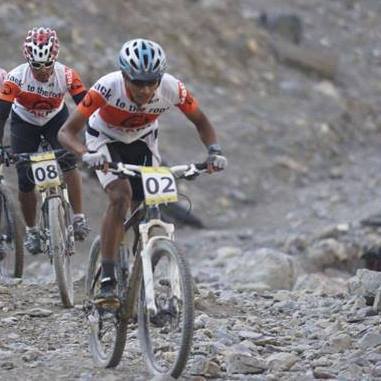 Yak Attack is scheduled for November 2015 and covers cycling in varied landscapes of Nepal including Hilly as well mountainous region that reaches upto the height of 5416 meter from sea level.
We completely believe in him and appeal you to support him and give him a chance to prove him in the toughest cycling battlefield of Yak Attack.
Your support can help him unleash his potential and prove himself as a prominent athlete of Nepal.
[tube]https://www.youtube.com/watch?v=ukRdzg99TTU[/tube]
<Video By Ganesh Pandey>
~Peace and Harmony~